Unprecedented AI features to enhance its powerful Merlin DAM software. Available soon as an additional add-on product for Merlin X customers.
May 6, 2019 – Boston, MA
MerlinOne, a leader in digital asset management technology, today announced the imminent release of Merlin Accelerated Intelligence, a suite of AI solutions including MerlinAI Visual Similarity and MerlinAI Facial Recognition. The new AI suite advances MerlinOne's strategy to enhance the DAM user experience to maximize performance and help speed time to market of digital content.
Get a demo of Merlin Accelerated Intelligence to learn more!
"Combining MerlinOne's DAM solution with unprecedented AI capabilities, all powered by Merlin X, will now allow users to massively speed up their workflow by being able to retrieve the exact assets they need almost instantly without having to do a thing," said Logan Fleck, Marketing Director, MerlinOne. "It's like having your own personal assistant at your fingertips, with a perfect photographic memory for every one of your pictures, the ability to ID almost anyone, the willingness to input thankless metadata entry chores in an instant, and even make helpful suggestions as you edit images."
The first solution, MerlinAI Visual Similarity gives data-driven recommendations to help users rapidly pinpoint the best possible image for their project, bringing unparalleled value to DAM with speed and precision. No longer do users need to use just textual metadata (which can depend on user accuracy and completeness), MerlinAI Visual Similarity analyzes the contents within images including textures, colors, shapes, object size and more, ensuring that the images chosen within the DAM have the potential to make the biggest impact.
Key benefits of MerlinAI Visual Similarity:
Improved & intuitive search experience
With MerlinAI Visual Similarity users cut down their admin chores and do a better job with less effort in maintaining the integrity of the content within their DAM.
Immediate search retrieval
Within sub-seconds and no matter how large the collection, similar images are immediately retrieved.
Another AI solution, MerlinAI Facial Recognition, brings groundbreaking facial identification with auto-tagging to Merlin X. Now users have the unique ability to immediately detect, tag and match millions of faces within their collections. This advanced capability uses biometrics and multiple Deep Learning algorithms to quickly find, extract and identify a person's face within an image – even if the face is within a crowd, angled, shadowed or partially hidden.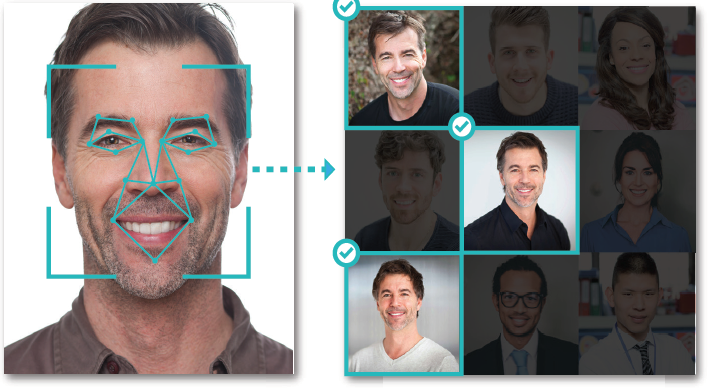 When benchmarked against a leading academic reference set, MerlinAI Facial Recognition algorithm scores above 99% in accuracy.
Rapid identification & intelligent automation
Face match verification processing is instantaneous even when the user needs to identify individuals from large galleries of images. In addition, the feature allows users to easily detect and tag faces within an individual photo or within multiple photos simultaneously.
Personalized collection tagging
MerlinAI Facial Recognition is used to detect and tag any person within a user's personalized collection. This could mean a CEO, top donors or anyone else specific to them, their team, or institution.
The Merlin Accelerated Intelligence Suite will be available to Merlin X customers early summer 2019 as an optional add-on package or as separate AI products. Together, these new AI capabilities will fundamentally transform how marketers, brand managers, digital media archivists, creative directors and the like execute their work on a daily basis.
About MerlinOne
MerlinOne, one of the first pioneers in Digital Asset Management (DAM) empowers marketers, creative teams, archivists and more to effectively organize and manage their digital content. Aimed to make visual storytelling development easier, MerlinOne allows express access to digital assets from virtually anywhere. MerlinOne is the trusted DAM vendor for hundreds of businesses thanks to its reliability, flexibility, optimal performance, and world-class customer service. From news to corporate, universities to non-profits, healthcare institutions and all company types in between, many of the world's most leading brands depend on their Merlin DAM every stage in the content cycle.
Want to learn more about how to bring the power of AI to your content management? Download the AI product guide below!